Cats are the cutest fluffy pets anyone could get. 10+
Awesome Facts That Every Cat Lover Finds
To Be True.
Being the purrfect creatures almost everyone falls in love with them. But not all people know as much about cat as a cat lover does. Even if you are fond of cats and find them beautiful you still won't know these interesting facts about them.
#1 Who said cats are your pets they actually own your place like a master.
10+ Awesome Facts That Every Cat Lover Finds To Be True
These clever yet cute creatures rule your place like they own it. When you are living with them it's because they are allowing you to live not vice versa. Once you own a cat you become a guest in your own home.
#2 My life, my rules.
Cats make their own rules and being their guests you must have to follow them as well. Else get ready to see their evil side.
#3 Got a scratch? Don't worry it's their way of showing love.
Getting scratches from your kitty isn't a big thing but when they do it out of love. Otherwise they know how to tame their master and keep them organized.
#4 Your gallery get a new look.
Getting a cat means changing the look and feel of your gallery as well. Now it contains only 4% of your selfies and family and friends pictures, rest is owned by your kitty.
#5 Lint rollers are now must part of your household items for your kitty.
Every crazy cat lover finds this must item to add in their shopping list after all how can they leave their kitty without its makeover.
#6 Boxes are the most comfortable place.
Whatever luxury bed you get for your cat for its comfort but boxes are best. Nothing can be more comfortable than a box and eventually a cat ends up sleeping in it.
#7 These stubborn creatures make their own decisions. If you think you can train them then forget about it.
No matter how much you train your cats, in the end they do what they want to. And honestly you can't do anything about that. Just when you are about to do some work they will just come and sit on your laptop and books. Well now you can imagine when students say their dog eat their homework, they are actually giving valid excuse.
#8 You can't and wake up your cat if it sleeping on your lap. You stay on your place without moving waiting for your kitty to wake up hence die due to some natural cause.
Sleeping cats looks so cute that you won't to wake them up. No matter how tired you become for sitting in a same position you still don't move just to let your kitty sleep peacefully.
#9 Missing your BFF way too much while you are on your vacation.
Leaving your little kitty home and going on vacation is really worst thing that can happen to a cat lover. You can't stop missing it even when you are on vacations. Cat + human = true love.
#10 Nothing can be more adorable then the paws of the cats.
Playing with the cute paws is the habit of every cat owner and it really works as a stress reliever.
#11 This is your cat's favorite activity.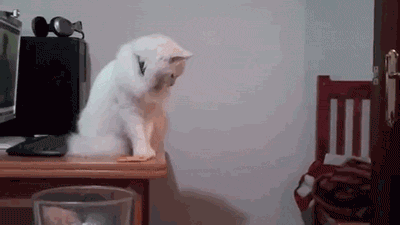 Knocking off the things on the floor is the favorite activity of every kitty.
#12 They can sleep anywhere they want to and only a true cat lover can find them.
Cats are the most adorable creatures and they are capable of sleeping anywhere. The places can be dangerous but interesting at the same time.
#13 The best gift you can get for your kitten is Mice
No matter how disgusting the mice look but they are the best present for your cat. If your offers you a mice then you are very special and it shows its immense love towards you.
#14 "Do you think only you can be independent? In your face. Ha!"
Cats don't need to be dependent on humans. They can do anything and everything they wish to do.
#15 You don't like my cat? Well I don't like you either.
It's not a big thing to lose your friends or even partners if they don't like cats. The day you say you hate cats your relationship ends.
#16 Why to go for circus when you have full package of entertainment at home?
Who needs to go to circus and spend money when you got a skilled that is no less than a joker? It can even climb the curtains and trees and give you full circus show.
#17 You have been misunderstanding the use of toilet paper. It is actually a toy.
Not only this but your cat drags it everywhere shredding and tearing and cause mess everywhere.
#18 The best therapy session by cats.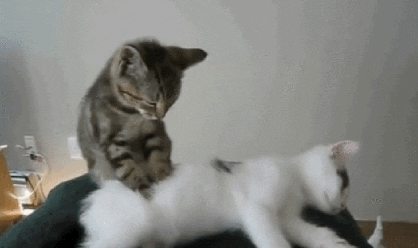 The cat owners get the best message by their cats. The little paws work magically to relieve the stress and serve a great help in relaxing.